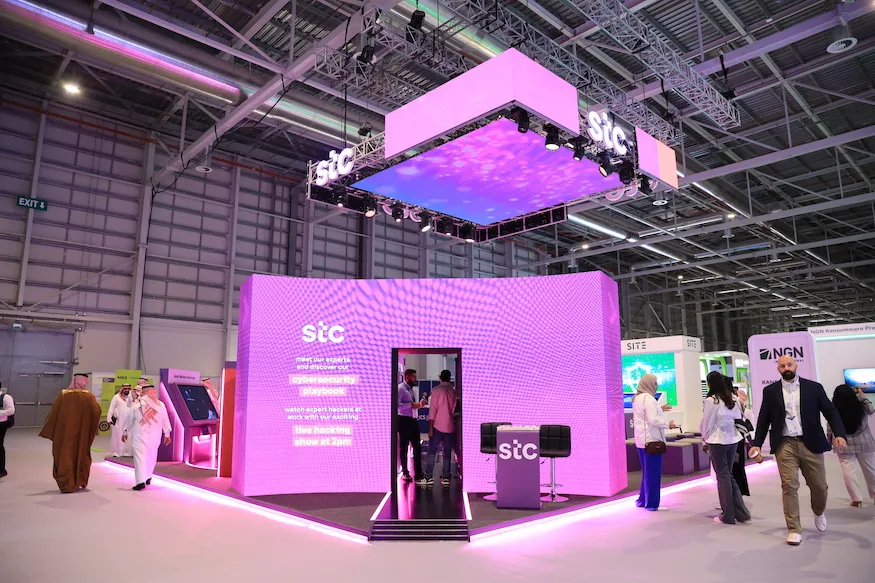 stc Bahrain cybersecurity solutions presented at the AICS
stc Bahrain is proud to have participated in the first-ever Arab International Cybersecurity Summit (AICS) at Exhibition World Bahrain, where we unveiled our new cybersecurity playbook to attendees and explained how stc solutions could best help their businesses against the ever-growing threat of cybercrime.
The event, which took place from 6-8 December, had a great turnout, with over 2,500 professionals in attendance. The exhibition hosted over 70 guest speakers, all sharing their expert knowledge on how individuals and businesses can manage cybersecurity risks.
stc Bahrain's cybersecurity playbook
The event provided an excellent opportunity for stc Bahrain to present our cybersecurity playbook, which is our complete cybersecurity solutions offering. We aimed to enhance attendees' awareness of cybercrime and provide education on our leading cybersecurity initiatives.
Our industry-leading cybersecurity playbook contains a variety of solutions to fit different business needs – together, these solutions form a complete cybersecurity protection package. Our playbook offers:
Data and Application Security: Our Data Security offering protects your data while our Application Security offering protects your business from application layer targeted threats.
End Point Security: Our End Point Security works by continuously monitoring end-user devices, ready to respond to any cybersecurity threats, like malware and ransomware.
Web Protect: Our Cloud-based security service acts as your first line of defence by blocking malicious sites.
DDos Protection: Our DDoS protection service is always-on, providing defence in real-time.
Virtual Firewall Service: Our Virtual Firewall service has all the same valuable features as a physical firewall and added flexibility.
Secure Service Edge Services: Our Secure Service Edge offering is an AI-powered, one-solution service that guards all users, apps and locations.
Advisory Services: Our Advisory Services will help your business accelerate its cybersecurity strategy.
Email Security: Our Email Security service uses anti-spoofing technology to stop unauthorized email use.
Human Layer Security: Our Human Layer Security transforms your employees from your organization's weakest to the strongest line of defence.
SOC Services: Our SOS services offer 24/7 security monitoring in real-time, with reporting, analysis and early-warning intelligence.
Managed Threat Intelligence Service: Our Managed Threat Intelligence service provides an intelligent cyber threat service with extra value.
Proactive Prevention: Our Proactive Prevention offering is an effective way of carrying out daily reports on your organization's vulnerability.
Our cybersecurity experts were on hand to discuss the solutions in our playbook, as well as stc products related to various cybersecurity risks, including phishing, malware and network security. They also suggested measures that organizations could take to ensure that their business is protected from cybersecurity threats.
Our cybersecurity expert speakers
Our industry partners, Security Matterz, Corsa, Yogosha and Infosec, joined us at the stc Bahrain stand to discuss cybersecurity threats and solutions. Plus, we were pleased to be joined by our sister company, sirar by stc, who specializes in cybersecurity in the Kingdom of Saudi Arabia. They were a key part of the stc stand, with a major presence and branded collateral. Their presence at the stand was valued and appreciated by all who visited, as the partners further enriched stc's cybersecurity solutions with their own extensive portfolio of tools. Cybersecurity is a global threat, so it's important that different organizations and thought leaders come together to beat the risks.
Cybersecurity experts from the region were also in attendance, speaking on the importance of having solid precautions in place, whether you're safeguarding yourself or your organization.
Those who attended the event and visited our stall had the opportunity to ask our experts questions related to their specific business' cybersecurity needs. stc was lucky to be joined by prominent figures in the industry from our partner organizations. Eng. Nezar Banabeela, CEO of stc Bahrain and Fahad Al Jutaily, CEO of Sirar by stc, were just two of the industry leaders in attendance. Both men shared their insights with the attendees; Nezar delivered a keynote speech at the event's opening ceremony, while Fahad was a featured panellist in a discussion surrounding how society as a whole needs to collaborate to tackle cybercrime.
Mastermind hackers in action
We also hosted a live hacking show at our stand. Our celebrity hackers demonstrated how vulnerable our devices and accounts could be when challenged by hacking masterminds. They made it clear how important it is for businesses to have precautions in place to protect against cybercrime during their performance.
Find out more
Don't worry if you were unable to attend the exhibition; stc Bahrain is here to help as your cybersecurity partner.
Cybercrime is an evergrowing threat facing businesses of all sizes. If you want to find out how our specialist cybersecurity consultants can help you protect your assets – please get in touch today by calling 128 or emailing us at businesssupport@stc.com.bh.