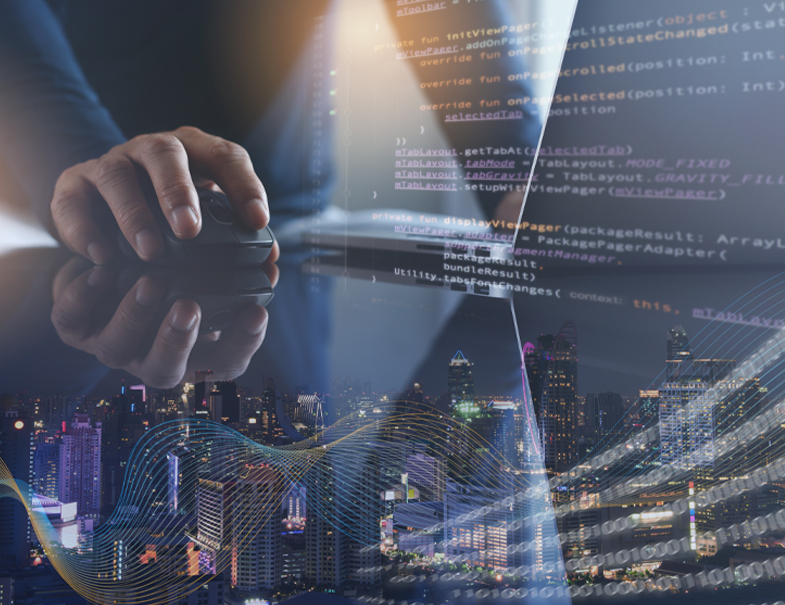 Our digital transformation journey
Pioneer. Enable. Empower.
Our revolutionary mission
Enabling digital transformation in the Kingdom of Bahrain and revolutionising the telecommunications landscape has been our mission since the day we launched. In line with the country's Economic Vision 2030, launched in 2008, we have worked tirelessly to strengthen Bahrain's leading digital position in the region by introducing innovative solutions and the latest technologies to the people of Bahrain.

We believe in the power of communication. It's this belief that fuels our innovation, allowing us to create cutting-edge products and tailored services, maintain an award-winning network and contribute to national investment efforts – which we have been doing since March 2010. We are committed to continuing to break boundaries to enrich all aspects of our customers' personal and professional lives. Our mission is to be at the head of digital transformation, a leading light here and around the world.
Pioneering
Bahrain's telecommunications sector is currently in a transformative phase driven by the adoption of VoIP and OTT-based applications and the introduction of new digital channels and services. We're rising to meet the challenges of this market, digitalising our core business and expanding into new digital industries in order to provide cohesive, holistic digital services. We challenge ourselves to be the more comprehensive, end-to-end digital brand – with you at every turn. We're proud to pioneer VoIP and OTT-based services for fast streaming and efficient media sharing wherever you may be.

Since our launch, we have been a major driving force in delivering digital transformation across the Kingdom. We're a fearless leader and the preferred mobile network in Bahrain. We are committed to continuing to provide pioneering local, regional and global-first network upgrades. Embodying this vision, we were among the first telecom operators to launch the 5G network globally, as well as the first operator in Bahrain to commercially pilot 5G.
Empowering
Since our inception, we have invested in infrastructure and in bringing innovation to the local telecom market in order to improve everyone's lives. We were the first local telecom operator to provide speeds of up to 42 Mbps, the first operator to officially launch 4G LTE services, named as the widest 4G network coverage and ranked top on QoS by Bahrain TRA for many years. Driving Bahrain's digital future with investments in revolutionary technologies and applications has been – and always will be – at the forefront of everything we do. Just as we disrupt the telecommunications industry to act as a force for innovation, we intend to disrupt adjacent industries to enable a more connected future.
Enabling change
stc Bahrain's digital transformation is designed as a springboard for success and innovation. We strive to empower all businesses – start-ups, pop-up shops, SMEs and larger corporate entities – to digitally transform and connect their operations.
Our business arm, stc Bahrain Business, focuses on tailored packages, comprehensive services to cover every corner of your business and dedicated support. Connectivity is vital to business growth and success. We aim to take care of the connections, including network coverage, company device plans, support, security and beyond, so you can take care of the big ideas.
We don't want the digital space to be fragmented and hard to navigate. Our vision is complete connectivity. We believe that streamlining your services and payments to just what you need, digitalising processes and enabling on-the-go innovation everywhere is the key to empowering businesses. We're also focused on agility and providing flexible services, support and packages that expand and grow with you. Add-ons, adaptability and flexible payment options are the matrix on which your business can build change.
Join us in the digital transformation.