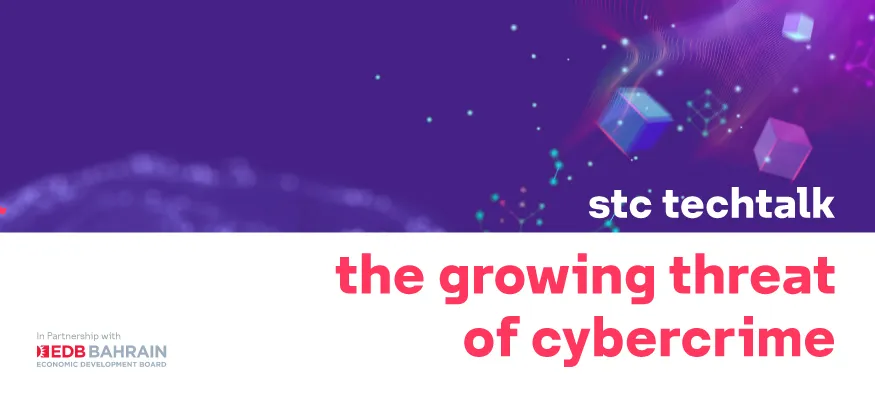 stc Bahrain introduces #stctechtalks on cybercrime threats
Keeping your business safe and secure is vital. And as the technology we adopt to run a successful organization becomes more sophisticated, so too does the cybercrime threat we face. So how can you help your business stay protected? We're proud to introduce #stctechtalks – starting with 'The Growing Threat of Cybercrime'. This event, in partnership with EDB, features advice from industry-leading experts on the latest technological innovations and strategies to overcome cybersecurity challenges.
Why Cybercrime?
From attacks on your data and devices to malicious malware and viruses, cybercrime is an evergrowing threat facing businesses of all sizes. But by improving your awareness of cybercrime and educating yourself and your teams on cybersecurity initiatives, you can help protect your business.
Addressing The Growing Threat of Cybercrime
During the event, our panel of experts will discuss the ever-evolving world of cybersecurity, as well as proven solutions your business can adopt to combat the risks of cybercrime. Topics will include:
Cybersecurity threats: what should we know and how can we stay protected?
Digital transformation and MSSP's role
Overcoming supply chain challenges by moving security online
Balancing organizational risk with the cost of cybersecurity
Innovative solutions such as AI, Machine Learning, and Deep Link Analysis
The role of telecommunication companies in the cybersecurity field
Our panel of cybersecurity experts

The event discussions will be moderated by Omar Kandil, CEO of OBCIDO inc, and will include a panel comprised of four industry experts:
1. Sh. Salman AlKhalifa, CEO of NCSC
2. Fahad Al Jutaily, CEO of Sirar by stc
3. Jad Hajj, VP at Strategy& Middle East
4. Haidar Pasha, CISO of Palo Alto Networks
Following the panel discussion, you will have the opportunity to ask the panellists any questions related to your business' cybersecurity needs.

Join us
To get involved with the discussions, visit stc Bahrain's Instagram and YouTube channels at 10 am on the 26th of September 2022.
Find out how our Cybersecurity Consultants can help you protect your business – get in touch today.